Fundraising efforts can be stressful especially if your company has limited resources because it is often a highly time-consuming task. However, there are many donation software choices out there that not only help you accept donations from a wider range of sources, but can also help you manage your donors and your fundraising campaigns.
Looking for more of an event management software? Or a membership management software selection?
Quick Reads
What is Donation Software?
Donation software often comes with CRM management systems that help you manage and track all your donors for your fundraising campaigns. Not only does it track your current donors, but it will also source potential donors for you to expand your donor list.
How can it help you?
Efficiency
Donation Software can help you reduce employees' time by automatically inputting data as well as automatically searching for potential donors for you. In addition, the software can help you lower your fundraising costs. This means your employees will be able to use this new time to create better relationships with your donors as well as lowering your costs.
Accuracy
With software inputting your data instead of an employee, there will be a reduction of errors such as duplicate entries or data entry errors. It will also more accurately track the interaction your employees have with your donors to track the pattern and trends.
Higher donor responses
As the software tracks the patterns and trends of donors, staff interactions with donors, and donor demographics, it can source potential donors for your company that will have a higher possibility of contributing a donation. The software can also analyze trends and for specific campaigns, it can target the donors who would be more likely to donate to those campaigns.
Top Features
Accepts different types of payments Donorbox allows donors to pay in a variety of ways including Apple Pay, Google Pay, Paypal, and Bank Payments
Subscription Donations This makes it both easy for your company to receive donations on a recurring basis and makes it easier for your donors to make recurring payments without needing to re-input her or his information every month.
Company Gift Matching This feature allows companies to match donations given by other donors without manually needing to go through the process of making the donation. Donors themselves can encourage their companies to match the donations they make.
Multi-Currency Support Donorbox accepts over 20 currencies from around the world and allows you to accept donations from all over the world, making it easier for you international donors to support your cause.
Multi-Language Integration Donorbox supports 11 different languages, making it easier for you and your donors to navigate the platform.
Secure Payments All payments on Donorbox are protected by encryption technology and there is also an anti-fraud system in place.
Donor Profiles Individual Profiles are made for every donor where they can edit their recurring donations are making new recurring donations.
Analytics Analytics are important in donation software because it can help with predicting trends and sourcing new donors and Donorbox offers these features to help you streamline in the process of accepting donations.
Pricing
Donorbox has no upfront costs on its platform, it charges 1.5% of the monthly donations made as well as different processing fees for the different payment types.
ACH bank payments are capped at $5 with the processing fee being 0.8% + $0.3 per transaction
Paypal and Stripe Payments have a processing fee of 2.9% + $0.3 per transaction
Top Features
Text Fundraising Text fundraising is a Qgiv feature that has two different features to support easy donations for donors. They can either donate a certain amount that then will be reflected upon their next phone bill or they can initiate a gift via text and visit a mobile form to complete the donation.
Facebook Donation Forms This feature allows donors to enter a form on your Facebook page to make a donation without leaving your page. This allows for a lower barrier for the donors to leap over to give the donations they want.
Peer to Peer This allows your donors to help you raise funds on your behalf. There are ways for your donors to gamify your event that can help them raise more funds on your behalf.
Content Management System A content management system can help you design your custom forms with ease without needing previous experience. This makes it easier for you to design the perfect form for your company without hiring a professional.
Gift Assist This feature allows your donors to, if they are willing, to pay for the processing costs so it does not hinder your company when these costs cut into your donations.
Kiosks Mobile Kiosks on your phone can be used to take donations in person straight on your iPhone through Qgiv's mobile app.
Donor Accounts Each donor will be given an account that can help them make donations more easily to you. It includes a payment methods management system as well as the ability for them to manage their donations.
Pricing
Qgiv's pricing starts with no upfront fees but with a transaction fee of 3.95% and $0.30 on every donation received on the platform.
However, if your company wants to choose a package option with different sets of features, the prices range from $10/month to $399/month.
Top Features
Relationship Tracking The NeonCRM Relationship Tracking feature can help you manage your donors and engage them when planning your events.
Volunteer Management This allows you to track your volunteer hours as well and manage them by assigning them different tasks all on the platform. Volunteer sign up forms can also be found here where you can create custom forms for volunteers to sign up.
Email Marketing The NeonCRM email marketing tool allows you to build and send you campaign emails as well as automatic emails to be sent when specific actions are made by your donors to create conditional emails. Here you can also manage your email audiences to ensure that the right donors are receiving your emails.
Survey Builder The Survey Builder allows the user to create custom surveys that can be adjusted with various types of fields. You can include standard fields that show up on every survey as well as custom fields that can be sent to specific accounts on the system.
Analytics The analytics on NeonCRM can be customized to the user's needs. This allows you to see only the things you need to see in easily understandable graphics.
Payment Types NeonCRM takes different payment types such as Debit Cards, Credit Cards, and Checks which allow your vast donor base to donate money in the best way that works for them. All the payments are encrypted and have automatic fraud detection
Materials Tracking NeonCRM also allows you to track your promotional materials so you can keep inventory any time and order materials that may be lacking.
Pricing
NeonCRM starts its pricing at $50/month with basic features but prices can increase to $200/months for more advanced features for larger firms.
They also have a standard processing fee of 2.9% + $0.30 per transaction.
Top Features
Customizable Donation Pages Funding allows you to customize all your donation pages to your liking. These pages will be listed on Fundly for potential donors to view and donate to a cause they support.
Integrated Social Media The integrated social media function on Fundly allows you to promote your fundraisers more easily straight to your different social media accounts. This allows your friends and followers to become donors as well as attract new potential donors.
Integrated Blog The integrated blog on Fundly allows nonprofits to have a blog that can update donors on the fundraising process as well as source new potential donors.
Mobile Friendly With a mobile-friendly platform, all donors can donate on the go which lowers the barrier of entry for donors to make donations. This creates a higher likelihood for more donations
Pricing
There is no upfront fee required for funding but there is a 4.9% deducted for Fundly on all donations made in the platform as well as a credit card processing fee of 2.9% +$0.30 per transaction.
Top Features
Social Fundraising Funraise's social fundraising allows you to fundraise on your favorite social media platforms. This allows a secure way to raise money on social media platforms where all your followers can see and spread the word about your fundraiser.
Fundraising Websites Funraise helps you create custom websites with an easy to use website maker. This allows you to create the website you want for your fundraisers.
Automated Emails The automated email function allows you to create different custom emails without needing the knowledge of HTML. It allows you to create your emails easily with pre-made templates to impress your donors.
Funraise App Allows you to accept donations on the go. It does not require you to implement donor data entry because all donations sync with your Funraise account.
Peer-to-Peer Fundraising Funraise also supports peer-to-peer fundraising. This allows your most dedicated donors to spread the word about your fundraiser and accept more donations and expand your donor base.
Donation Forms Funraise offers donation forms that are customizable. This allows you to collect donations straight from your website while incorporating your company's branding on the form.
Pricing
Funraise does not offer packages but they create custom quotes based on what you need from your donor software.
OneCause
Top Features
Peer to Peer OneCause supports peer to peer fundraising which can help you expand your donor base and spread the word about our fundraiser.
Events Allows nonprofits to sell tickets and collect donations for events without needing to download a new piece of software.
Text2Give Allows mobile donations which create a larger donor base through a lower barrier of entry.
SmartPay Allows secure payments and payment management at events or for donations.
Peer to Peer OneCause also supports peer to peer fundraising which can increase your donations and your donor base.
Pricing
OneCause does not offer set packages but it offers many tiers for companies to choose from and pricing will vary.
Top Features
Peer to Peer CauseVox has integrated peer to peer fundraising to have your most dedicated donors to find other donors and direct them to your fundraisers.
CRM CauseVox's integrated CRM will automatically update contact profiles as well as segment contacts into different groups. It also helps you keep track of donation progress and trends.
Donation Form An easy to use donation form makes it easier for your donors to donate. It allows monthly recurring donations, as well as one time donations with smart, save information. The form will remember donor information and pre-fill the donor details. It doesn't hurt that the donation forms are also mobile-friendly.
Pricing
There are three tiers to CauseVox's pricing.
The first tier costs $0/month but includes a processing fee of 2.2% + $0.30 per donation.
The second tier costs $139/month when billed annually but $185/month when billed monthly without commitments. This tier comes with more features but still has a processing fee of 4.25% on the platform along with a processing fee of 2.2% + $0.30 per donation via Stripe and Paypal.
The top tier includes many more features and it costs $245/month when billed annually and $285/month when billed monthly. It also includes a platform fee of 3% along with a processing fee of 2.2% + $0.30 per donation via Stripe and Paypal.
Top Features
Desktop and Mobile Friendly This creates a larger donor base who can search and identify their match requests from any device, whether it be a mobile, tablet, or desktop device. The ease of access lowers the barrier of entry to the platform.
360Match This feature allows Double the Donation users to track the status of their matching gifts as well as identify gift eligibility and send custom automated emails to drive higher matched donations.
Matching Donations The platform is highly based on the idea that people can donate for large organizations to match their donations as well.
Pricing
Double the Donation comes with 2 packages, a premium package, and the 360MatchPro package.
The Premium package costs $499/year and the 360MatchPro, aimed at institutions with more than $25000 annual matching gift revenues costs at $3000/year.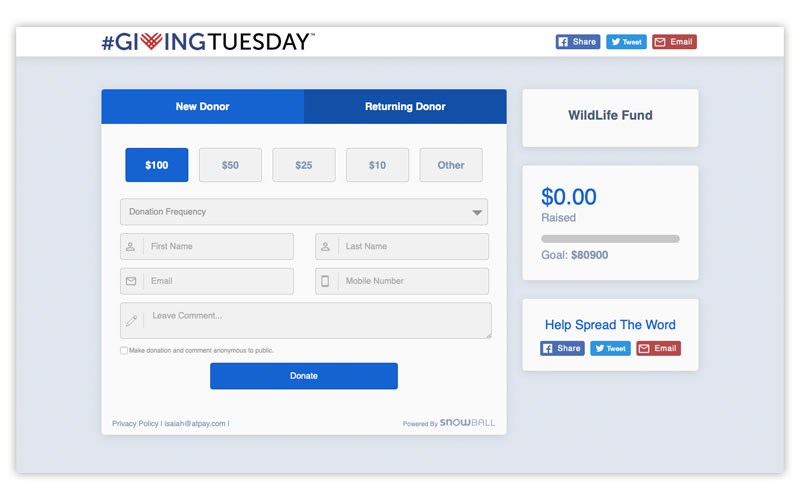 Top Features
Text-to-Give This feature allows you to accept and ask for donations through text with custom messages. It also allows you to sell event tickets through these features.
Live Event Thermometers This gamifies the event to create more excitement for your donors to track your success.
Ticketing Sell event tickets for your fundraisers and share the receipts with the buyers. You can also get a headcount while registering attendees for your event.
Customizable Forms Customizable forms allow you to design the perfect form that you would like to send out for specific fundraisers.
Digital Megaphone This feature lets you broadcast on all your social media accounts about your fundraiser to increase donor pools and increase your donations.
Pricing
There are three pricing plans for Snowball Fundraising.
The Essential plan is the cheapest and has no upfront costs but includes a processing fee of 2.9% + $0.30 per transaction.
The Premium plans cost at $549/year with a lower processing fee of 2.2% + $0.30 per transaction.
The highest tier is the Enterprise which starts at $999/year and is for organizations that process large amounts of donations.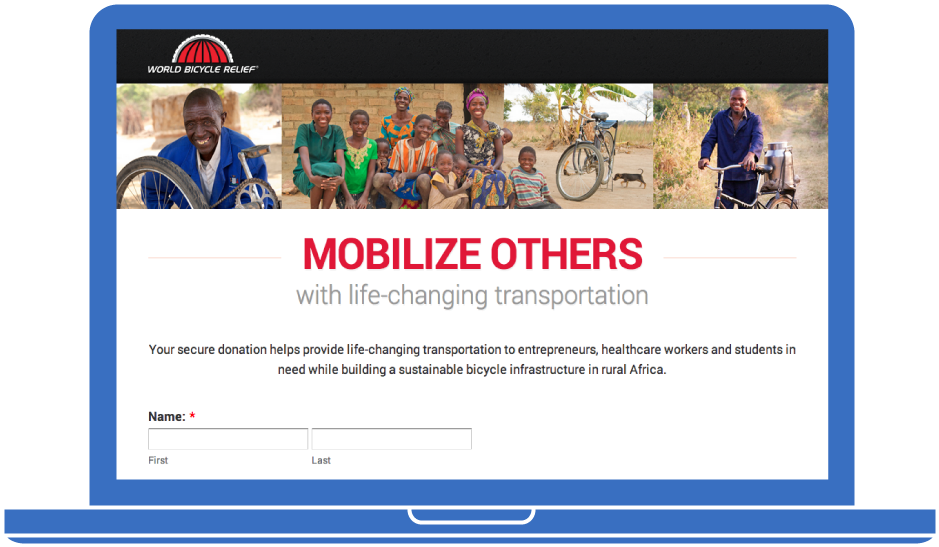 Top Features
Donation Forms This feature allows for integrated Salesforce donations. It allows visitors to customize their own gift amount. This also includes a customizable confirmation letter than can be integrated with videos and images.
Add-ons Add on features for Soapbox Engagement include Peer to Peer fundraising and custom designs for users.
Salesforce Salesforce integration allows you to manage all aspects of your fundraiser. All forms, donations emails, and donors are saved to salesforce to allow you an easy way to track the progress of your fundraisers.
Pricing
The pricing structure on Soapbox Engage is dependent on the number of apps that are being used.
Soapbox Engage starts at $49/month per app for non-profits.
The standard plan starts at $99/month per app.
The unlimited standard plan is $349/month.
The unlimited plan for non-profit organizations is $199/month.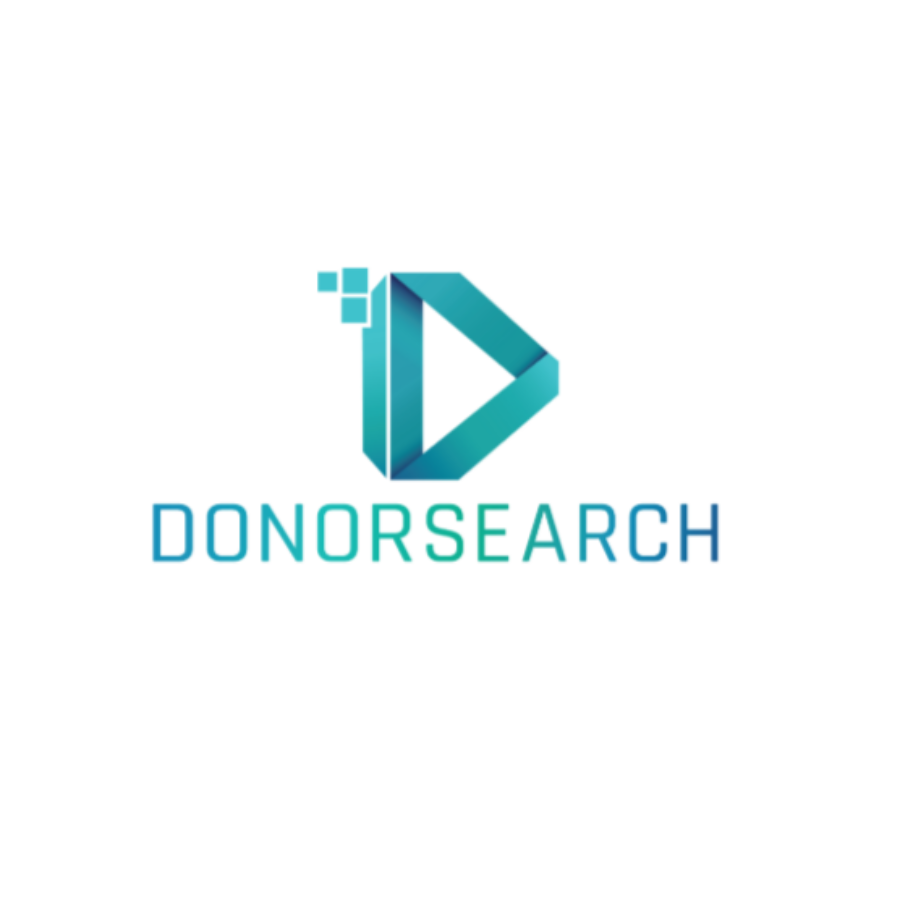 Back to Top
Top Features
Mobile Engagement This software company prides itself on mobile engagement. Many of its features are available through texts such as one-on-one chats, bulk messaging, and chatbot. For international consumers, it also has the ability to use Whatsapp for unlimited service internationally.
Text-to-Vote Using the text-to-vote function you can see real-time voting on your integrated Salesforce dashboard.
Chatbot Automated conversations can help you answer conversations when you are not readily available. This creates an amazing service for customers even when you are away.
Bulk Messaging Send messages to specific groups which can help increase efficiency in keeping in contact with clients as well as maintaining a good relationship.
Pricing
The pricing structure for Mogli SMS is based on a 4 tier system: Starter, Standard, Elite, and Enterprise.
Starter tier costs at 250/month and billed annually at $3000/year.
Standard tier costs $460/month and billed annually at $5500.
Elite tier comes in at $670/month and billed annually at $8000.
Enterprise tier is $1090/month and billed annually at $13000.
Top Features
Social Media Fundraising Facebook integrated fundraising is integrated straight on the social media platform to raise awareness more easily. They also allow you to fundraise on their other platform, Instagram.
Recurring Donations This feature allows for recurring monthly gifts for donors to easily give every month without needing to go through the donation process again.
Fundraising Stickers Fundraising Stickers allow organizations to fundraise on their Facebook stories not solely on their pages. This adds a layer of promotion to the fundraiser.
Live Video Donation Live video donations allow you to give people an inside look at your organization or answer questions about the fundraiser while people are donating without needing to rent out a physical space.
Pricing
Non-profits on the Facebook platform to process their donations pay no fees.
Top Features
In-Person Fundraising Using Paypal Here you can accept donations using donors' preferred paying method. This makes it easier for donations at in-person fundraisers.
Embedded Donate Button The Paypal Embedded donate button can be integrated on non-profit's websites. This allows for an easy method for donors to contribute a gift.
Pricing
Paypal Here charges a processing fee of 2.7% per transaction. And for the Donation button embedded in your website, they charge a processing fee of 2.9% + $0.30 per transaction.
Wrapping it Up
Each donation software has its benefits and features that work better than others and some hit just a niche market. Ensure you pick the one that integrates with your organization smoothly. This is just a preliminary list for you to understand to basic features of each software.
Do your own research on the one you think is right for you before you pick it. We hope our list is comprehensive and helps you have a good idea of which software your organization wants. We hope that your process for picking the right Donation software for you goes smoothly and the one you pick is the right one for your organization.
Glue Up is about to have its own news concerning donations, so stay tuned. In the meanwhile, consider booking a demo to get yourself up to speed on our other great features like CRM, Email Marketing, Event Management, Ticketing, and more before we start rolling out the big guns.
Or fill out the form below
[contact-form-7 id="3235" title="freebies english"]